Educational Workshops
The San Juan County Textile Guild offers educational workshops taught by acclaimed instructors. Fees vary by teacher and the number of students registered. A $75 deposit is required for each class. In addition to tuition, there is a materials fee for most classes. Workshops are held at various venues across the islands.
Workshops are open first to SJCTG members, then to non-members on a space-available basis. A deposit is required for each workshop.
SJCTG members can sign up for these workshops using the form furnished under the member login from the Home page or click here.
Non-members click here for sign-up form. Download the PDF file and print.
For workshop questions, you can contact our workshop person @ Email Us!
---
Workshop Sign-up Policy:
1) Sign-ups for all workshops will require a non-refundable $75 deposit or the total cost of the workshop if less than $75.
2) The workshop coordinator will send a reminder to the participants 90 days before the workshop with an estimated balance, which is then due and payable.
3) If a student cancels before the 90-day period, the student is not responsible for the full cost. Within 90 days of the workshop, the student is responsible for the full amount. A replacement will pay the cost or the balance directly to the person who has had to drop out, in the order in which they have cancelled whether it is before or after the 90-day period.
4) All cancellations are subject to forfeiture of the deposit unless the workshop is cancelled by the Guild or a replacement is found.
5) If the Guild has to cancel a workshop, all deposits will be refunded in full.
Workshop Wait list policy:
1) After the workshop capacity has been met, anyone may add his/her name to a waitlist with a $75 deposit.
2) Up to 90 days before the workshop, anyone on the waitlist may remove their name from the list and receive a full refund of the deposit.
3) Within 90 days of the workshop, the waitlisted person must accept an opening or forfeit their deposit unless a replacement is found.
4) If a person is not offered a place in the workshop, the deposit will be returned.
Workshop Fees:
1) All workshops will be available to both members and non-members.
2) Non-members will be offered the workshop for $20 more which will include a one-year membership in the Guild.
3) We will develop reciprocity agreements with other guilds.
---
SJCTG WORKSHOPS 2013
Sunday and Monday, March 10-11, 2013 - San Juan Island - Skagit Valley College
Birch Bark Basketry with Deb Curtis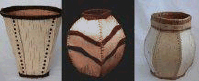 This workshop will provide a hands on experience in preparing the birch for your basket. Students will be able to choose from four different styles of birch baskets, and depending on the style chosen may be able to complete more than one basket in the two days. The workshop will also include a brief history of birch bark basketry and how to gather the birch. The different styles available range from traditional to contemporary. Birch bark offers a clean, pure look to any basket. The warm browns of the inner bark provide a striking contrast to the lighter outer bark. This will be a wonderful opportunity to get acquainted with this beautiful basket material.
.
Deb Curtis is based in Corvallis, OR. Her work has been shown throughout the Northwest as well as North Carolina, New Hampshire, Arkansas, and Arizona. She teaches at basket conferences in Oregon, Washington, California, and Michigan. Her goal is to create contemporary baskets using traditional materials. With this in mind, she links traditional materials with tapestry weaving, beading, stitching and surface design. She says that, "By blending colors and textures, I change the character of the basket from only a functional vessel to a container that expresses a concept. I strive to show that there is beauty in tradition and purpose to contemporary basketry."

Where: San Juan Island - Skagit Valley College
Cost: $125-$150 ($75 deposit required) Materials Fee: $65
Friday and Saturday, March 22-23, 2013 - Orcas Island, Orcas Hotel at the Ferry Landing
Crocheting with Magdalena Verhasselt



This workshop will provide an overview of the many things that can be done with crocheting, and will be a jumpstart for your own creativity. The instructor will bring samples of all these types of projects, and demonstrations will also be given. Participants will learn and practice the most common crochet stitches. The class project will be to make a sampler scarf, using many of the techniques that have been learned. This workshop would be suitable for someone who is a beginner to crocheting or to someone who has basic skills and wants to know more.

Marlene Verhasselt learned to knit and crochet by the age of five in her native country of Germany. She even crocheted edges on cloth diapers for her younger brother! She is a retired teacher from California, but prior to that, she taught a variety of crafts in private schools. In addition to crocheting and knitting, Marlene is skilled in macrame and paper mache. She lives on Orcas Island, and her sheep blankets are very popular at the Olga Artworks, one of the premier galleries on Orcas.

Where: Orcas Island - Orcas Hotel at the Ferry Landing
Cost: $35-$60 ($35 deposit required) No Materials Fee
Friday, Saturday, Sunday, April 12, 13, 14, 2013 - The Grange, Friday Harbor
Nuno Felting with Patty Barker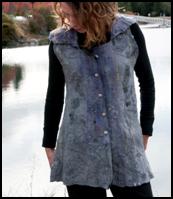 The Guild's own member Patti Barker will be giving this two-part workshop. This is a wonderful opportunity to use this popular technique to make two unique projects.

Nuno Felt a Scarf Workshop. Friday, April 12th
Learn the basics of nuno felting and take home an original silk and wool scarf of your own design. This is a beginner class and emphasis is on having fun.

Cost: $75-$90. Materials fee: $40

3-D Nuno Felt a Vest Workshop. Saturday and Sunday, April 13th-14th
This is an advanced felting class where participants will learn garment construction of a felted vest with no sewing necessary (well, maybe a little hand basting). This project will utilize a plastic resist technique. Before the workshop, each person will be asked what basic colors they wish to use and will design their own wearable art vest! Students will leave not only with a vest, but with a resist pattern and the knowledge of how to make seamless felted vests and jackets.

Cost: $130-$150. Materials fee: $80

Patti Barker is a full-time American fiber artist. She exhibits her felt works at fine art shows in Florida in the Winter and in the Pacific Northwest the rest of the year. Patti has won multiple awards for her original felted wearable art. She enjoys teaching workshops with an emphasis on fun. Patti incorporates hand-dyed silk and fibers, as well as hand-spun art yarn into her unique felted accessories and garments.
Where: The Grange, Friday Harbor
Thursday and Friday, June 13-14, 2013 - Orcas Island
Painting on Silk? Easy to Do! with Janet Lehwalder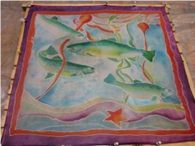 In this workshop, you will learn how easy it is to create beautiful colors and designs on silk, to rival even those made by famous designers. Using the simple Serti technique, you stretch the silk and trace the outline of your design with a resist. The dyes flow and blend, creating interesting patterns naturally. Information on materials and techniques will be presented. On the first day, students will create a 22" x 22" scarf. On the second day, it will be possible to complete at least one more scarf, or to design greeting cards using the technique, or to learn embellishing techniques to add to the scarves.

Janet Lewalder established Moonlight Silks in 1984, and her work over the years has encompassed a wide variety of silk painting techniques and projects, such as paintings in a watercolor style, clothing items, and luxurious quilted silk comforters. She has taught extensively and enjoys that her students are able to get such beautiful results. Janet says that, "I love the way silk's natural luster adds light to the colors. I love the way you can choose among many surface textures. Silk is a strong, vibrant natural fiber that is beautiful all by itself."

Where: Orcas Island - Fire Hall, Eastsound
Cost: $140-$160 ($75 deposit required) No Materials Fee • All Supplies Included
Saturday, September 14, 2013 - Location to be determines
Kumihimo - Japanese Braiding with Marilyn Romatka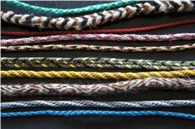 In this one-day workshop, you will discover an ancient Japanese braiding technique. Artists used this delicate technique to make cords for closing scrolls, for adornment, and for the construction of Samurai armor. Working on a braiding stand called a Marudai, students will enjoy the calm, rhythmic motions while they produce four different and stunning braids. You will also be introduced to Tama weights. The possible uses for the braids are endless. Use them for jewelry making, to embellish garments, for curtain tie-backs, horse leads, or for your own armor construction. This workshop is appropriate for those who are new to kumihimo, as well as those who have had some experience with it already. Enjoy your day of Zen!

Marilyn Romatka is a Seattle-based artist, who is accomplished in many fields, including spinning, weaving, knitting, and fleece preparation, as well as being well-versed in kumihimo. She feels that folk art is more and more relevant in the midst of the modern, electronic era. According to Marilyn, folk art "grounds us in the past; it connects us to the generations that came before us. It opens our eyes to the point of view of other peoples in other countries. Teaching about another country's art opens up opportunities to start discussions on geography, history, and sociology."

Where: Location to be determined
Cost: $50-$65 ($50 deposit required) $8 Materials Fee
Friday and Saturday, October 4-5, 2013 - San Juan Island, Skagit Valley Collge
Cedar Bark Basket with Polly Adams

This opportunity to have Polly back came up rather suddenly just before the holidays. Polly will suggest some possible projects and we will get them out to you soon so that we can get feedback and decide which basket to make. A workshop with Polly is not to be missed! Her projects are always beautiful, her cedar is meticulously prepared, and she is just a delightful person, as well as being a highly gifted basket maker. This workshop is sure to be popular with both experienced basket makers as well as newcomers. So it's never too soon to send your deposits in!

Polly Adams Sutton is a full time studio artist and teacher of basket making. Living in Seattle, Polly gathers and prepares her own materials – cedar bark from logged forests and sweetgrass from the tidal flats of Washington. The flexibility in these materials gives her the opportunity to work on asymmetrical shapes. She exhibits her work in galleries all over the United States, and her sculptural basket was chosen for the cover illustration of the best-selling book 500 Baskets. Her work is also featured in a major show of contemporary basketry at the Bellevue Art Museum until February 24th.

Where: San Juan Island - Skagit Valley College
Cost: $125-$140 ($75 deposit) Material Fee expected to be about $80
Thursday and Friday, October 24-25, 2013 - San Juan Island, Skagit Valley Collge
Micro-Macrame Jewelry with Joan Babcock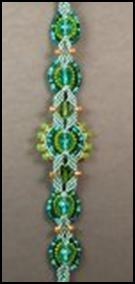 You will do two projects at the workshop. The first day will be the bracelet (pictured on the left), and the pendant (pictured right) will be the project for the second day. Joan will also be the featured speaker at October's meeting.

Joan Babcock's roots in fiber art go back to when she was a teenager in Miami, Florida. It was the late 60's and macramé was all the rage. She made the usual plant hangers and owls, but eventually branched out into elaborate freeform wall hangings and knotted sculpt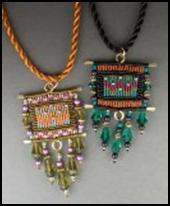 ure. In 1986, she relocated to Santa Fe and rediscovered her love of knotting in the form of jewelry. Over the years her work has continued to evolve as she has explored new techniques such as wire weaving, metal work, and bead mosaics. Her favorite jewelry creations are one of a kind necklaces. The Cavandoli technique, a kind of pictoral tapestry knotting, is a signature of this work. One square inch of knots can take over an hour and contain more than 250 knots. Joan draws on an intuitive design and color sense and gets her inspiration from tribal cultures, Asian art, and natural forms. Joan has also written two books; Micro-Macramé Jewelry and Wired Micro-Macramé Jewelry as well as a DVD; Micro-Macramé & Cavandoli Knotting.
Where: San Juan Island - Skagit Valley College
Cost: $130-$160 ($75 deposit) Materials fee to be determined.
---
SJCTG members

can sign up for these workshops using the form furnished under the member login from the Home page or

click here

.
---